Enterprise Operations Require a Specialized Intelligence Platform
Our operational intelligence platform is designed to meet the needs of teams running operations in large enterprises. It monitors business events in real-time and alerts users to risks and opportunities in the context of client relationships and financial outcomes. Acting as the hub for information from diverse sources, OpsVeda promotes an intuitive, easily customizable interface.
Any Process, Any Data, Any Device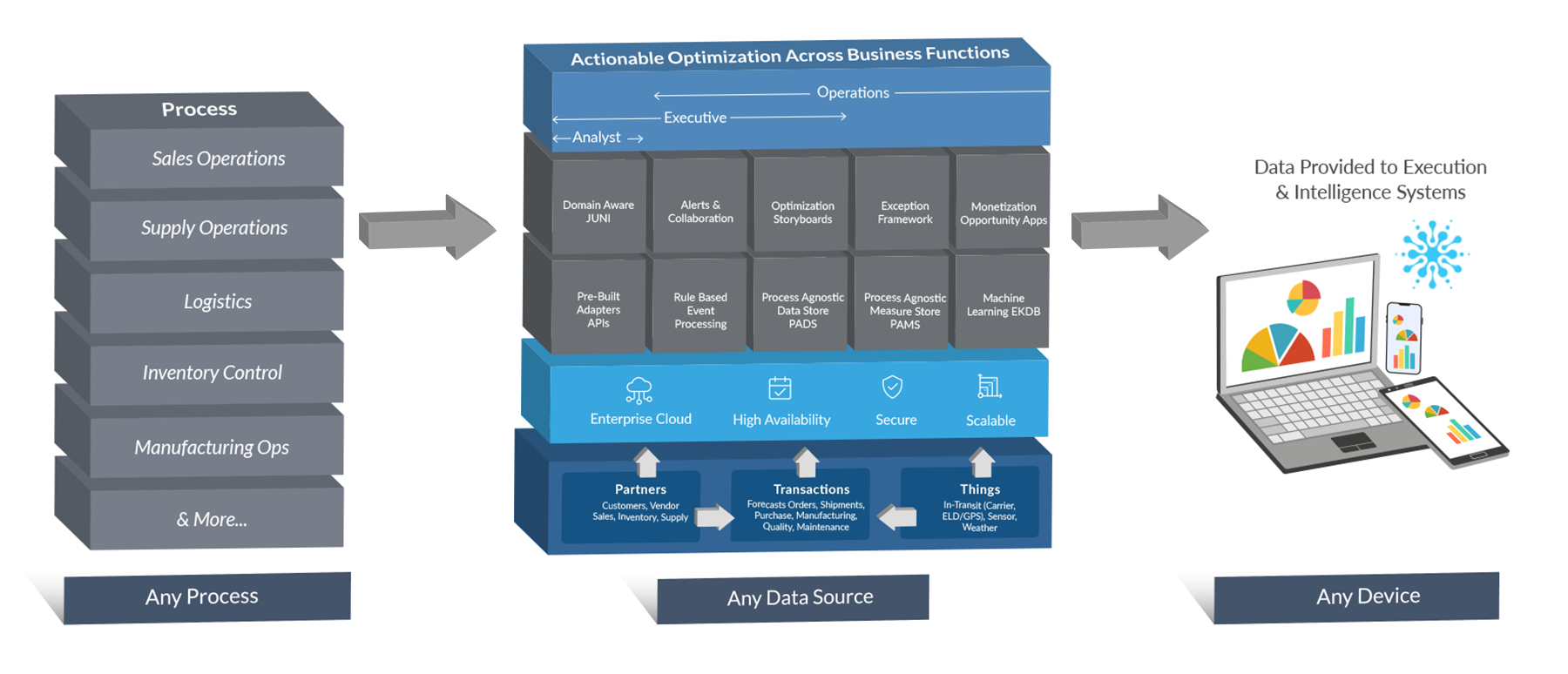 Operational Intelligence with Machine Self Learning
Information Hub – Process Agnostic Data Store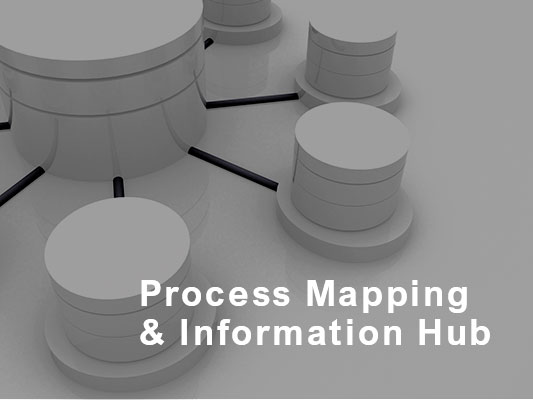 To gain a holistic view of operations, businesses need to gather information from diverse systems across the distributed supply chain. OpsVeda uses an open data model build with Process Agnostic Data Store* (PADS) technology to easily compile this data. By allowing the integration of multiple operations into process chains, OpsVeda makes it possible to monitor a transaction end-to-end without manually piecing together spreadsheets, or using multiple applications. For businesses that need it, the platform is engineered to capture data and events in real-time to enable timely decision making.
From penalties linked to order delays, to customer-specific requirements, to the auto-cancellation of unconfirmed orders, there is a lot riding on operational timeliness. Our data connectors transmit changes to transactions to the Information Hub immediately. Our fast, highly-optimized, in-memory computation engine is capable of processing hundreds of millions of rows of data in seconds, ensuring that the user learns the business implication of a change immediately.
The system ships with a large library of business functions to optimize operational processes. Customers can configure these functions to reflect their prioritization and other rules. These functions can also plug into Machine Learning & Mathematical Optimization algorithms if more granular identification and prioritization is desired. Over time, the machine learning capabilities refine the prediction of outcomes.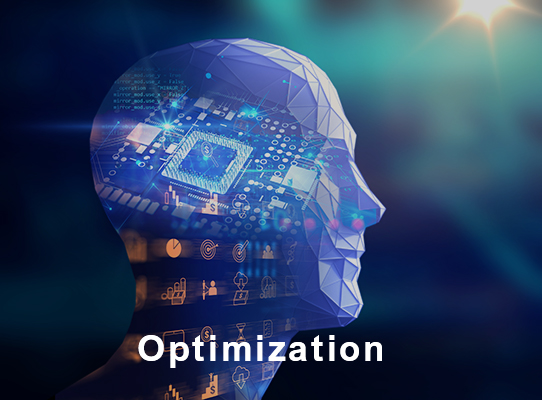 End-user Self-service with "Canvas"
For teams running operations, time is money. The business user does not have the luxury of waiting for technical support to set up a report or dashboard. OpsVeda Canvas enables self-service data discovery and promotes a user-friendly interface. With Canvas, business users can load their own data into the OpsVeda platform, blend streaming operational data with new data-sets, leverage a wide catalog of charts to create powerful visualizations, and set up access privileges to share the data visualizations across a broader audience.
Storyboards for the entire organization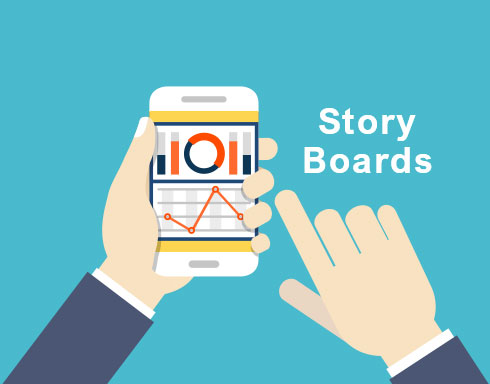 OpsVeda comes with a vast library of storyboards that can be easily personalized by users. They may also design their own. JUNI makes this a snap for business users across sales, customer service, and manufacturing teams. Through the Exception Builder, users can set and adjust parameters used to separate transactions that need attention from ones that do not. The relevant can be automatically alerted to these and where required escalations can also be set up.
Operations involves a number of moving parts managed by people from different teams and companies across the supply chain. Hundreds of daily decisions require the collective insight of people on every corner of the globe. Because insights are more valuable when shared, OpsVeda enables collaboration through in-app messaging and annotation features. Messages and annotations are linked to a distinct transaction or group of transactions, so that everyone remains on the same page.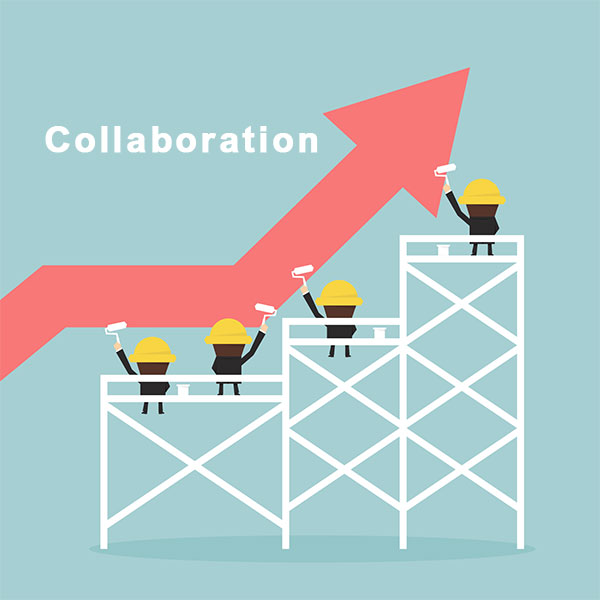 Connectors & Data Acquisition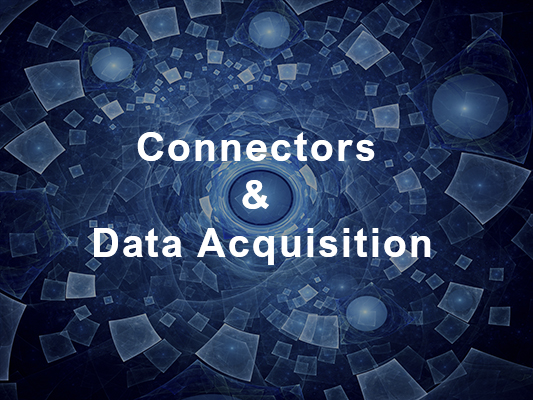 With OpsVeda, customers can adopt a phased approach to data acquisition. While OpsVeda supports near real-time data acquisition with its array of business-aware connectors for major systems of record, the customer may choose to defer such integrations to a later stage when ROI is more certain. Flat-file & SFTP connectors may be used to acquire the data from existing Data Lakes and/or Reports. This can reduce upfront IT efforts and shorten the time to go-live. Any manual steps involved can be eliminated using RPA bots.
For us at OpsVeda, the security of your data is of paramount importance. The one-way encryption of passwords, strong password policy enforcement, single sign-on with SAML, SSL encryption for data in-transit, and three layers of encryption on DR storage, SAS 70 standards, are but a few of the measures we take to ensure security, confidentiality, and privacy. In terms of scalability, OpsVeda ensures that users get analysis in real-time, regardless of the volume of data. Running on AWS provides the elasticity for seasonal peaks and end-to-end health monitoring of the systems.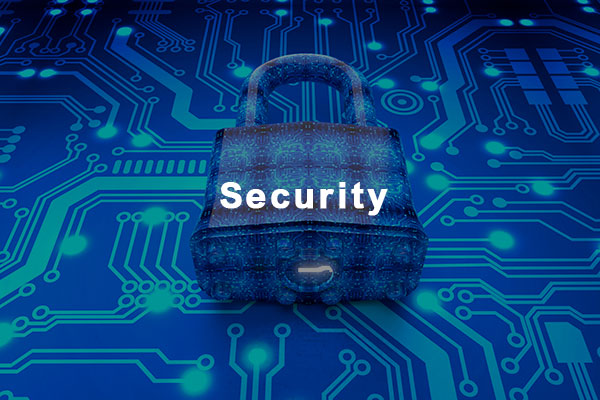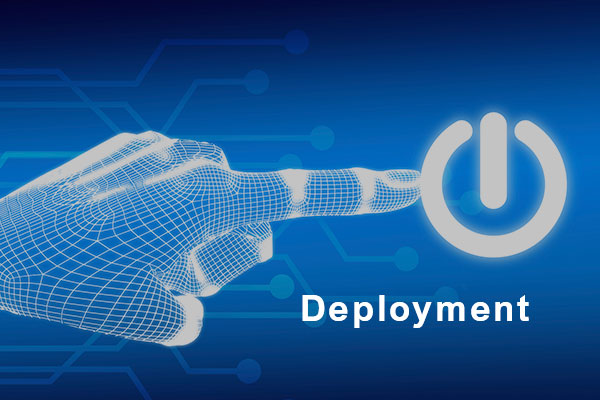 Hands-off SaaS model
Elastic
Secure
Outbound HTTPS connectivity from data sources
Runs on Amazon Web Services (AWS)
Certified builds
Ability to easily ingest data from any source – real-time as well as offline data lakes, reports, etc.
In Production in mere days with insights, prescriptions, and alerts